Jump to content
National Council of Aboriginal and Islander Women
In the late 1960s, Geraldine Briggs realised the value of having an Indigenous women's organisation, and formed the Victorian Aboriginal and Islander Council. Other states followed and, in 1972, a National Council of Aboriginal and Islander Women was formed. Mrs Geraldine Briggs became the first president and Miss Margaret Briggs the general secretary.
Indigenous women from New South Wales, Victoria, Queensland, Western Australia, Northern Territory and the Torres Strait attended the conference which passed motions concerning the preservation of Indigenous cultures, the employment of Aboriginal welfare workers and the granting of land ownership to Aboriginal people. The conference was addressed by Dr HC Coombs, chairman of the Council for Aboriginal Affairs; Senator Neville Bonner; Mrs Shirley Smith, who spoke about the formation of the Aboriginal Legal Service and the Aboriginal Medical Service in Sydney; and Dr Diane Barwick, who spoke about the changing role of women in Australian society.
This organisation provided a forum for women to lobby governments on issues of specific concern to them.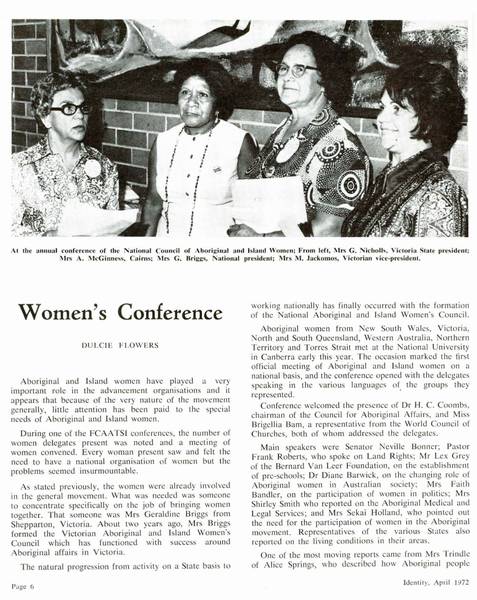 'Women's Conference' by Dulcie Flowers, Identity, April 1972, p.6
(Left to right) Gladys Nicholls, Amy McGinness, Geraldine Briggs and Merle Jackomos
Page 1 of 2 (click on image to view enlargement in new window)