Jump to content
Mick Rangiari
(1929? to 2006)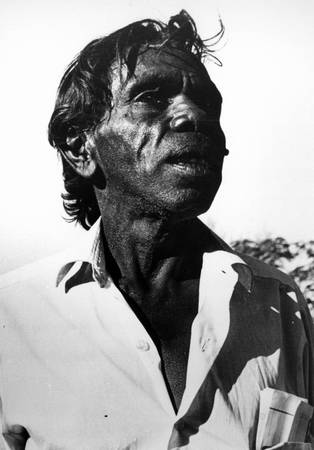 Source: Northern Territory Library and Information Service
Mick Rangiari (also known as 'Hoppy Mick') was one of the younger members of the Gurindji who were fighting to regain control of some of their land. As a young man, Mick worked for the local policeman. When he was riding to Wave Hill to collect the mail one day, he was thrown from his horse when it was startled by a snake. He lay injured with a broken pelvis for a couple of days until he was found by an Aboriginal man walking that way. He was taken to Wave Hill Station where he lay on the verandah for two weeks, waiting for the Flying Doctor. He was then flown to Katherine but it was too late. His pelvis had, by that time, set crooked.
Rangiari continued to be a vocal supporter of the struggle for Gurindji land. After the land was handed back to the Gurindji people, Mick worked as a station manager assisting in the training of younger men in cattle work. He continues to be an active member of the community, supporting and commenting on their plans for economic and social development.
Footnotes
See B Manning, 6th Vincent Lingiari Memorial Lecture, Charles Darwin University, Darwin, 2002 for Rangiari's story.