Jump to content
Victorian Aborigines Advancement League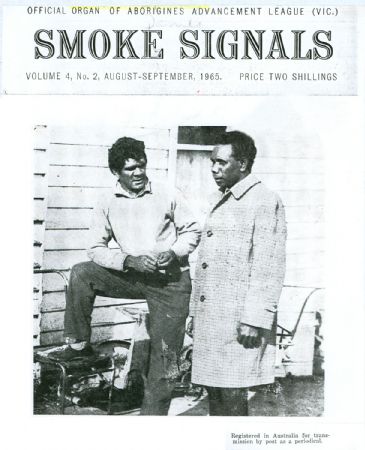 Source
: Cover of
Smoke Signals
, August-September 1965. Charlie Carter, Lake Tyers, Victoria (left) and Dexter Daniels, Roper River, Northern Territory.
In March 1957, those who had responded to the Warburton Ranges crisis by forming a Save the Aborigines Committee realised that a broader, more enduring body was needed. They disbanded this Committee and established a new organisation. The Aborigines Advancement League with Gordon Bryant as president, Doris Blackburn as deputy president, Stan Davey as secretary and Pastor Doug Nicholls as field officer was the result. This organisation grew rapidly over the next few years. Branches were established through suburban Melbourne and in country Victoria.
Early political activity included the drafting and circulating of a petition requesting a referendum to amend the Constitution so as to empower the federal parliament to legislate in Aboriginal affairs. A second early action was to establish a defence fund for Albert Namatjira who was appealing his conviction of supplying liquor to an Aboriginal ward of the state.
In the late 1960s the organisation moved to full Aboriginal control. Still operating today, it is the oldest Indigenous organisation in Australia.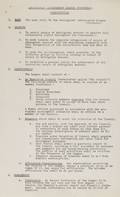 Victorian Aborigines Advancement League constitution
Council for Aboriginal Rights (Vic.) Papers, MS 12913/8/1, State Library of Victoria