Jump to content
Doug Nicholls
(1906 to 1988)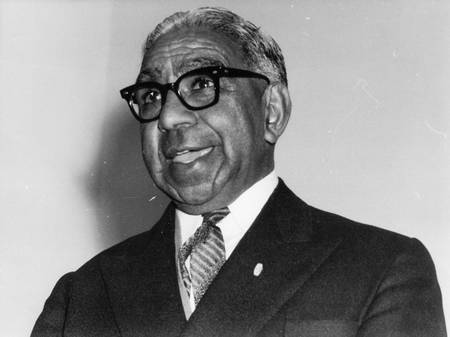 Source: State Library of Victoria
At the time of the investigation into the state of people living in the Warburton Ranges, Doug Nicholls was founding pastor at the Fitzroy Church of Christ Aborigines' Mission. He was well known and loved by Aboriginal people living in Melbourne. As a result of his sporting successes, especially as a winger for Fitzroy in the Victorian Football League (VFL), he was also well known and respected among football-following Melbournians.
Nicholls had grown up at Cummeragunja Aboriginal Reserve on the New South Wales bank of the Murray River. This community produced a number of Aboriginal leaders. One of them was William Cooper, Nicholls' great-uncle, who founded the Australian Aborigines' League in Melbourne in the mid 1930s. Nicholls would later publicly acknowledge his debt to Cooper in commenting to his biographer, Mavis Thorpe Clark: 'William was the contact that brought me back to our people. Everything comes back to William Cooper - the hostels, the League - he fired me to follow through'. Nicholls became, as a result of these life experiences and his charismatic, confident personality, a key activist in the work to awaken a sense of responsibility among politicians and the public concerning Aboriginal disadvantage throughout Australia.
Doug Nicholls' first breakthrough in helping his people came when he was supported by the Church of Christ Council in establishing the first Aboriginal Church of Christ in Australia - in Gore St, Fitzroy. It was a church but also a welcoming meeting place for Aboriginal people from all over Australia.
In 1958, when the Aborigines Advancement League was formed, Pastor Doug Nicholls became its field officer. Over the next few years he established Aboriginal hostels for both boys and girls coming to Melbourne to seek work, a holiday program for Aboriginal children and, with his wife Gladys, was constantly engaged in providing food, shelter and emotional support for any who sought their help.
Nicholls campaigned to assist the people of the Warburton Ranges, to save Lake Tyers from closure and to amend the Constitution to empower the Commonwealth government to take responsibility for Aboriginal affairs. He encouraged his people to become politically active and played an active role in the Federal Council for Aboriginal Advancement (later the Federal Council for the Advancement of Aborigines and Torres Strait Islanders), throughout the 1960s.
Although Doug worked effectively with non-Aboriginal supporters in the Aborigines' Advancement League and in the Federal Council he supported the amendments proposed by Barrie Pittock to empower Aboriginal and Islander members of the Federal Council. When these motions were lost Doug joined with Kath Walker to form a new organisation, the National Tribal Council, and accepted a leadership role in this organisation.
Doug Nicholls was awarded a MBE in 1957 and OBE in 1968, 'for distinguished services to the advancement of the Aboriginal people', to which he quipped that MBE stood for 'more black than ever'. He was knighted in 1972 and was further recognised in 1976 when he became the Governor of South Australia and was appointed KCVO in 1977. Sir Douglas Nicholls died in 1988. He was given a state funeral attended by many who loved and respected him for his dedication to his people, and was buried at his beloved birthplace, Cummeragunja.
Further reading
Mavis Thorpe Clark, Pastor Doug: The Story of Sir Douglas Nicholls, Aboriginal Leader, Lansdowne Press, Melbourne, 1972
Richard Broome, Sir Douglas Ralph (Doug) Nicholls, Australian Dictionary of Biography, 2012