Jump to content
Gladys O'Shane
(1919 to 1965)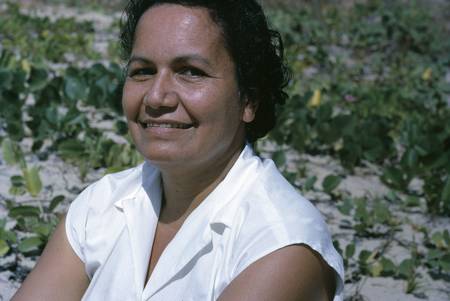 Source: Australian Institute for Aboriginal and Torres Strait Islander Studies
Gladys O'Shane, who lived in Cairns for most of her adult life, took a leading role as an activist at a time when, as an Aboriginal woman, everything would have been against her.
She married Patrick (Tiger) O'Shane when she was 21 and, over the next eight years, the couple had five children. Through her husband, who worked on the Cairns wharf, Gladys O'Shane became an active member of the Cairns Women's Committee of the Waterside Workers Federation. In 1958 she began her public advocacy for the Aboriginal cause with a stirring speech at the second national conference of this committee in Sydney. A member of the Communist Party of Australia and of the Union of Australian Women, Gladys O'Shane told her horrified audience of the denial of human rights for Aboriginal Queenslanders who were controlled by the Aboriginals Preservation and Protection Act. The regulations under this Act meant that there was no trial by jury as the 'courts' on reserves were run by officials who could be accuser, jury member and judge.
Regulations, Aboriginal Preservation and Protection Act 1939 (Qld)
Queensland Government Gazette, 23 April 1945
More info on Regulations, Aboriginal Preservation and...
She explained that there was no encouragement of family life as the Director of Native Affairs was the legal guardian of all Aboriginal children born in Queensland. Gladys urged her listeners: 'All right thinking Australians must join with us in our struggle for a better way of life'.
Gladys O'Shane attended the third annual conference of the Federal Council for Aboriginal Advancement (FCAA) as the president of the newly-formed Cairns Aboriginal and Torres Strait Islander Advancement League (CATSIAL). Over the next four years she worked hard to expose such injustices as the Hopevale Mission flogging, as well as the police violence experienced by people at Mossman and Mareeba.
She widened her political activism with a trip to Melbourne and to Gippsland in the early 1960s to support the Lake Tyers people in their campaign to retain the reserve for its Aboriginal residents. She encouraged Aboriginal people to express pride in their cultural heritage. A strong, intelligent and articulate woman, she would no doubt have gone on to take a broader national role but died tragically in 1965. After an operation to remove a bone from her throat she lapsed into a coma. Her death a year later was a great loss to her family, the Cairns Aboriginal community and to Aboriginal people all over Australia.
Ysola Best, Gladys Dorothy O'Shane, Australian Dictionary of Biography, 2000