Jump to content
William Cooper
(c.1861 to 1941)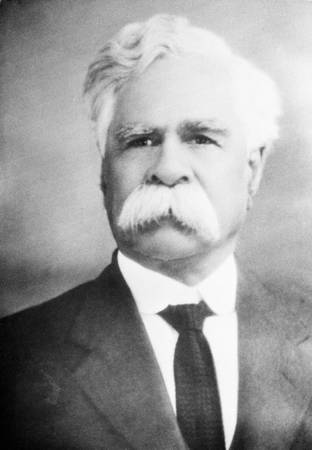 Source: Australian Institute of Aboriginal and Torres Strait Islander Studies
William Cooper, of Yorta Yorta descent, spent most of his life in the Cummeragunja community where he was a spokesman for the Yorta Yorta in their ongoing battles for land justice against the New South Wales government. In 1933, at 72 years of age, he left his beloved home to go to Melbourne, as residence on the reserve made him ineligible for the old-age pension.
He made his home in Footscray, which became the centre for other Cummeragunja exiles such as his grand-nephew Doug Nicholls, Margaret Tucker, Shadrach James and others. This group became the nucleus for the Australian Aborigines' League, which was formalised in 1934 to plan action on behalf of Aboriginal people. Apart from ongoing letters to politicians and bureaucrats, William Cooper dedicated many years of his life to the gathering of signatures for a petition to King George V which asked, among other things, for Aboriginal representation in the federal parliament. Despite years of travelling, in which he gathered between 1800 and 2000 signatures, the petition strategy failed.
William Cooper contributed to a further strategy which challenged the colonial view of the settlement of Australia. In 1938, celebrations were planned to mark the sesqui-centenary of the arrival of the British. In response, William Cooper with Bill Ferguson of the Aborigines Progressive Association, planned a 'Day of Mourning' so that Aboriginal people could draw attention to the destructive effects of the invasion. This powerful symbolic gesture, along with the petition to the King and the formation of the Australian Aborigines' League, mark the beginning of political organisation for Aboriginal Australians and have inspired the following generations of activists working for justice for Indigenous Australians.
Further reading
Bain Attwood, William Cooper: An Aboriginal Life Story, Miegunyah Press, Melbourne, 2021
Bain Attwood and Andrew Markus, Thinking Black: William Cooper and the Australian Aborigines' League, Aboriginal Studies Press, Canberra, 2004