Jump to content
Pindan Group
Following the 1946-1949 pastoral strike by Aboriginal men in the Pilbara, the strikers formed a community which sought economic and social independence from the pastoralists. Don McLeod, in conversations with Dooley Bin Bin and Clancy McKenna, who had both worked in the pastoral industry, had seen the strike strategy as a way for the people to gain control of their lives. McLeod believed that a cooperative would be the structure most suitable to Aboriginal social organisation. The group was, however, illiterate and thus unable to give signed consent and, as a result, the Northern Development and Mining Company Pty Ltd was set up in 1951, the first Aboriginal-owned company in Western Australia. The company went into liquidation in 1953. In 1955, Pindan Pty Ltd was established, a company in which all the shareholders were Aboriginal people (Pindan is the name for the red earth of the Pilbara).
Throughout the 1950s, Don McLeod and Stanley Guise Middleton, Commissioner for Native Affairs, were locked in a bitter ideological battle when it came to models of Aboriginal industry. In 1958, more than two dozen Pindan men went to Perth to fight a defamation case against Middleton and the Australian Broadcasting Commission. They were partially successful.
Pindan group, 1958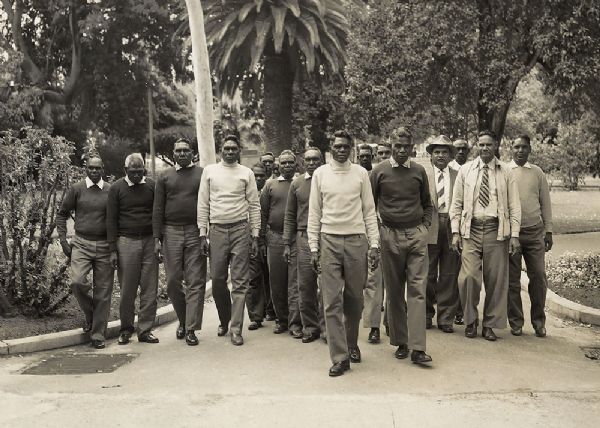 Middleton played a part in the failure of the first venture, Northern Development and Mining, and continued to scrutinise the new venture. From 1955 to 1959, Pindan Company operated as a mining company drawing on traditional yandying skills (a yandy is a long shallow dish) in separating the minerals. A community of about 600 people was developing confidence in their ability to operate successfully in a white man's world without losing control of their own. Jacob Oberdoo, one of the Pindan shareholders, made the long journey to the Brisbane Federal Council for Aboriginal Advancement conference in 1961 to tell people about the Pindan venture.
In 1959 the group split. Ernie Mitchell and Peter Coppin led one section of the community. They purchased Yandeyarra station and operated successfully for many years. The other section, led by Don McLeod, established Nomads Pty Ltd and purchased Strelley Station, Warralong and others. Today, some land in the Pilbara has been returned to traditional Aboriginal owners.
Further reading
Various files from the State Records Office of Western Australia (4069, 3733, 3390, 5761, 993)
Kingsley Palmer and Clancy McKenna, Somewhere Between Black and White: the story of an Aboriginal Australian, Macmillan, 1978
Don W McLeod, How the West Was Lost, Port Hedland, 1984
Jolly Read and Peter Coppin, Kangushot: the Life of a Nyamal Lawman, Aboriginal Studies Press, 1999