Jump to content
Bert Groves
(1908 to 1970)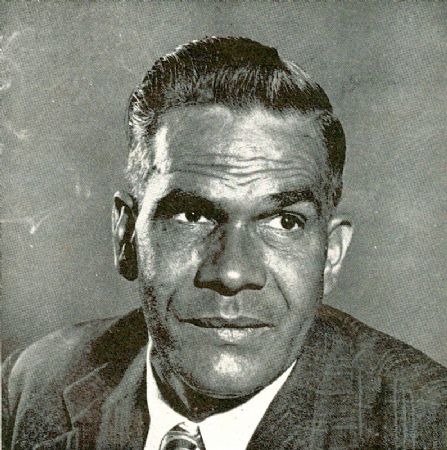 Source: Churinga, Aborigines Progressive Association journal, March 1966
Bert Groves, Jeff Barnes from Adelaide and Doug Nicholls from Melbourne were the three Aboriginal representatives at the Adelaide meeting where the Federal Council for Aboriginal Advancement was formed in February 1958. Groves' political activism stretched back to 1937 when he joined William Ferguson's Aborigines Progressive Association. Concerned at the poor housing, unemployment and inadequate education experienced by Aboriginal people, Groves worked through grass roots organisations as well as with government. He gathered evidence in the late 1930s to press for an enquiry into the New South Wales Aborigines' Protection Board.
Bert Groves served in the Australian army during the Second World War and was a Justice of the Peace. In the 1950s he was an Aboriginal representative on the New South Wales Aborigines Welfare Board. In his campaign to reform the Board, he revived the Aborigines Progressive Association, which had become inactive after Ferguson's death, and encouraged Aboriginal people to join. This organisation promoted Aboriginal control of their own affairs.
As president of the Aboriginal-Australian Fellowship, Bert Groves spoke strongly at the 1958 Adelaide meeting at which the Federal Council for Aboriginal Advancement was formed, opposing the government's policy of assimilation, which he likened to extermination. He argued that assimilation implied the disappearance of Aboriginal people as a separate cultural group and their physical absorption into European Australia. Speaking for the Aboriginal-Australian Fellowship, Groves told the conference that the word 'integration' better defined the aims of his organisation.
Bert Groves was also president of the Aborigines Progressive Association in the 1960s and trustee and executive member of the Aboriginal Children's Advancement Society. He was loved and respected especially by Aboriginal activists in New South Wales.
Further reading
Alan Duncan, Herbert Stanley (Bert) Groves, Australian Dictionary of Biograpy, 2006