Jump to content
Don Brady
(1928 to 1984)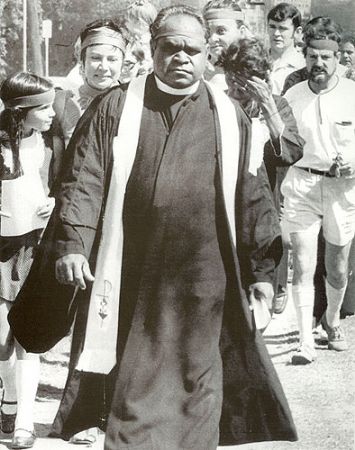 Source
: Michael Aird,
Brisbane Blacks
, Keeaira Press, Southport
Pastor Don Brady combined his pastoral role with political activism and the support and encouragement of Aboriginal culture. He was born on Palm Island, of Kuku-Yalanji descent, and graduated from the Aboriginal Inland Mission College in 1949. After an initial posting to Cherbourg Mission, he became pastor at the West End Methodist Mission Church in Brisbane in 1962. A Churchill Fellowship in 1969 took him to the United States which led to him to believe that society was changed by 'outsiders', not those on the government payroll. With Denis Walker, Cheryl Buchanan and others he formed the Brisbane Tribal Council, which in turn led to the formation of the National Tribal Council in 1970.
Through the 1970s Don supported the expression of Indigenous culture by such groups as the Kuku-Yalanji dancers. He showed his contempt for the Queensland Aborigines Act by publicly burning a copy of the legislation. Such gestures culminated in his being sacked from the Methodist Church in 1972, leading him to set up his own church, the Black Christian Community Church, where he continued his ministry. He was a popular pastor who encouraged his people to be proud of their culture.