Jump to content
Neville Bonner
(1922 to 1999)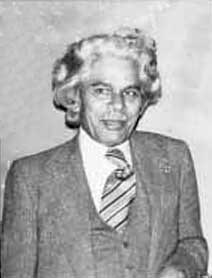 Source: Australian Institute of Aboriginal and Torres Strait Islander Studies
Neville Bonner was born on Ukerebagh Island in the mouth of the Tweed River in 1922, and raised by his Aboriginal mother and grandparents. His father went back to England before Neville was born. His early life was tough with no opportunity for formal education apart from one year of attendance at a school when he was 14. He worked as a stockman, cane cutter, tree feller and married Mona Banfield in 1943.
In 1946 Neville decided to move to Palm Island with his family to be with his wife's people. Over the next 17 years he became interested in working to improve the people's way of life on the island, rising to the position of Assistant Settlement Overseer.
Back on the mainland in the early 1960s, Neville joined the One People of Australia League, an Aboriginal advancement body which worked cooperatively with the Queensland government to improve Aboriginal welfare, housing and education. Following the successful 1967 Referendum Neville decided it was time to enter politics and he joined the Liberal Party.
In 1971 he became Australia's first Aboriginal senator and was re-elected in 1972, 1974, 1975 and 1980. During his parliamentary career he represented the interests of his people, often crossing the floor to vote with the Opposition on Indigenous issues. While Neville was initially 'viciously attacked' - as he put it - at the 1970 Federal Council for the Advancement of Aborigines and Torres Strait Islanders (FCAATSI) conference for standing for Parliament, he was invited to address the FCAATSI annual conference in 1974 on the topic of Aborigines and politics. He opposed the formation of the National Aboriginal Consultative Council, seeing it as a separatist move. Instead he urged his people to 'learn the intrigues of politics' and work to enter Parliament and become a part of the decision-making process.
In 1984 Neville Bonner was awarded the Officer of the Order of Australia. He died in 1999.
Further reading
Bruce Juddery, Neville Bonner, Obituaries Australia, 1999