Jump to content
Don McLeod
(1908 to 1999)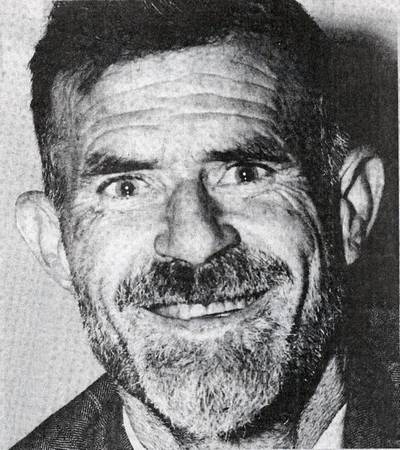 Source: The Age, Wednesday 21 April 1999
Donald William McLeod, one of the first White kids born in Meekatharra in Western Australia, became committed to justice for Aborigines at about the age of 29 and from then on devoted his entire life to their cause. The journalist Duncan Graham declared in an article in The Age on 2nd May 1996 titled 'Rebel of the Pilbara' that he was 'the original stirrer, branded a traitor to his race and culture, a Communist zealot determined to upset the cosy relationship between pastoralists, government and police and ensure the "blackfellas" were treated as equals'. Whatever the view about McLeod, one thing is clear, he lived out his commitment in the very harshest of physical and political environments, and developed phenomenal powers of endurance while mostly existing at the subsistence level of the Aboriginal community that he joined for the long struggle.
Don's credibility with the people was such that in 1942 they invited him to attend a large meeting of the desert tribes called to allow about 200 representatives from 23 different language groups to discuss ways of radically changing their conditions. One member of the group later explained: 'We needed a man, and we got that man, Don McLeod.' Don was appointed by the lawmen to be their adviser in their quest to escape from conditions of virtual slavery.
Don and the group engaged in constant political action to achieve recognition of Aborigines as the beneficial owners of the land, and independence for themselves. Their first major act was to plan a strike for better wages and conditions. They achieved a remarkable feat of organisation when on 1st May 1946 the strike began: an estimated 600 stockmen walked off about 25 pastoral stations - an unheard of act of autonomy in an era where the Aborigines were systematically deprived of land, power, freedom and respect. The strikers maintained themselves on bush tucker and income-earning work collecting buffel seed and pearl shell that was marketed through McLeod's networks of unionists, women's organisations, churches and others who united to support the group economically and politically. Later, under McLeod's tutelage, the group - by then known as the Strelley mob - became miners using picks, shovels and bare hands. They sold their high-quality metals overseas, again through Don's networks, and used the proceeds from all their enterprises to develop businesses, buy cattle stations, establish an independent school and provide services for their people.
Don was persecuted, gaoled and ostracised by those in authority. For many hard years the Strelley mob's rations consisted of two pairs of shorts and shirts a year, tobacco, flour and tea leaf. Don camped with the mob, living by himself in a tin shed with a dirt floor and tea chests for furniture. He remained in touch with world events by listening to the BBC news on a transistor radio and could talk the hind leg off a donkey on any topic. He detested missionaries, Whites and government men, but if a White person's credentials were accepted he welcomed fellow workers - that is, if they could keep up with this man who could go without water in the intense Pilbara heat, stride out over rocks and spinifex with the speed of the Indigenous people, survive on a meagre diet and feel no pain. He had no tolerance for those with a weaker constitution.
In the 1950s Don went to Melbourne at the invitation of the Council for Aboriginal Rights to speak about the cooperative movement and Pindan Pty Ltd, which the mob set up. Stan Davey took him to the Mooroopna, Shepparton, and Cumeroogunja communities where he shared the principles, goals and methods of the mob with his Aboriginal audience. In 1961 Jacob Oberdoo, one of the members of the group, was invited to the Federal Council for Aboriginal Advancement annual conference in Brisbane to share their story. Many were inspired by the achievements of this cooperative venture.
Don was awarded an AO in 1991 for service to the Aboriginal community.
Author: Dr Jan Richardson
Further reading
Don McLeod, How the West was Lost, published by the author, Port Hedland, 1984
Anne Scrimgeour, On Red Earth Walking, Melbourne University Press, Carlton, 2020