Jump to content
Geraldine Briggs
(1910 to 2005)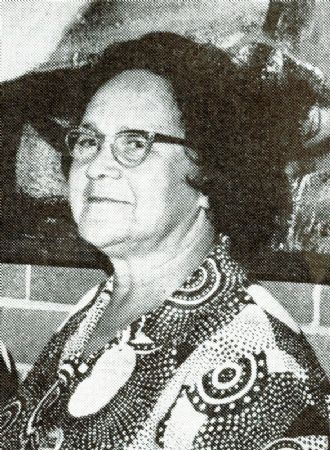 Source: Identity, April 1972
Geraldine Briggs' memories of the Federal Council for the Advancement of Aborigines and Torres Strait Islanders (FCAATSI) conferences include the journey up to Canberra, sometimes meeting people along the way. She remembered FCAATSI people as the strongest group of people she had ever known. From 1970 to 1973, Geraldine was a member of the executive as the Victorian State Secretary, representing the interests of Victorian Koories at the annual meetings.
Geraldine, like many of the FCAATSI Aboriginal activists, had politics in her blood. She had been a part of the group who walked off Cummeragunga in the 1930s, protesting the harsh restrictions imposed by a cruel manager. Her husband, Selwyn, was a cousin of Doug Nicholls. Her own mother had passed down to her, in the oral tradition, the story of her great-grandfather's response to seeing white men for the first time.
Geraldine Briggs was active in the Aborigines Advancement League. She was buoyed up by the hope of a better future for Aboriginal Australians when more than 90 per cent voted in favour of the 1967 constitutional amendments relating to Aborigines. In 1970 she formed the Victorian Aboriginal and Islander Women's Council and in 1972 she, with other Aboriginal and Islander women, was instrumental in the creation of an Australia-wide body: the National Aboriginal and Torres Strait Islander Women's Council. This organisation sought to address the issues of particular concern for Indigenous women in the 1970s.
Geraldine was made an Officer of the Order of the Australia (AO) in 1991.
Further reading
'Geraldine Briggs' in Alick Jackomos, Living Aboriginal History of Victoria: Stories in the Oral Tradition, Cambridge University Press, Melbourne, 1993