Jump to content
Jack Patten
(1904 to 1957)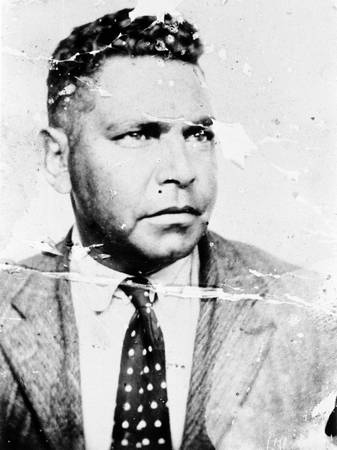 Source: Australian Institute for Aboriginal and Torres Strait Islander Studies
Jack Patten, born at Moama, New South Wales, went to Cummeragunja school as a child before his parents moved to West Wyalong. As a young man he lived at La Perouse in Sydney and became an effective public speaker on Sunday afternoons at the Domain, informing the public about the destitute conditions of life on Aboriginal reserves. He visited Cummeragunja early in 1939 when residents were angry at their treatment at the hands of McQuiggen, the cruel manager of the reserve. Jack Patten encouraged the people to leave, receiving a gaol sentence for enticing Aborigines to leave a reserve.
Jack Patten was the first president of the Aborigines' Progressive Association (APA), and together with William Ferguson, gathered evidence to press for an enquiry into the operation of the New South Wales Aborigines Protection Board. Again with Ferguson he published a manifesto titled 'Aborigines Claim Citizen Rights'. He joined forces with William Cooper to organise the 1938 Australia Day 'Day of Mourning'. This was a dignified protest by Aboriginal Australians which drew attention to Australia Day as the day marking the beginnng of the dispossession. The APA split in 1938 with Jack Patten and Bill Ferguson leading separate factions but, by 1946, they were working together again, this time opposing federal government plans to establish a rocket range on Pitjantjatjara lands.
Jack Patten joined the Australian Army and served during the Second World War. He was the editor of the Aborigines Progressive Association's Abo Call, which helped break down isolation in Aboriginal communities. He died in an accident in Fitzroy, a suburb of Melbourne, in October 1957.
Further reading
Jack Horner, John Thomas (Jack) Patten, Australian Dictionary of Biography, 1988