Jump to content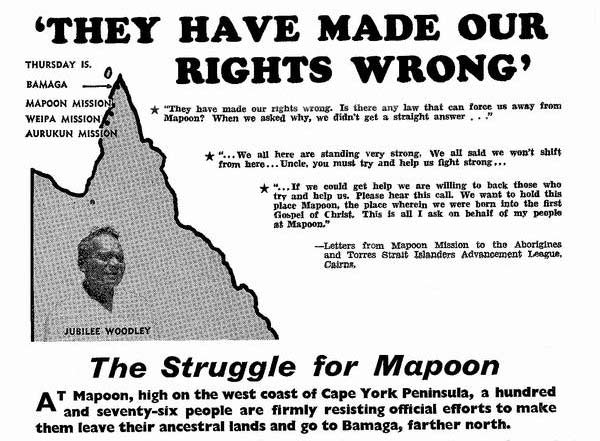 Struggle against mining
By the early 1960s lands in northern Australia which had been leased to missionaries to establish Aboriginal reserves were found to have huge quantities of bauxite (the mineral from which aluminium is derived). This was the beginning of what would become a mining boom. As a consequence of these finds the missionaries, and then the residents of Mapoon Presbyterian Mission, were pressured to relocate north at Bamaga.
One resident was the sole survivor of frontier slaughter of his family. He had been brought as a tiny baby to the mission where he was raised in the Presbyterian faith. As a young man he helped build the church where the community worshipped. As an old man he watched as it was burned to the ground, along with people's homes.
Mrs Jean Jimmy, spokesperson for the community, made the long journey from Mapoon to the Federal Council for the Advancement of Aborigines and Torres Strait Islanders (FCAATSI) annual Easter conference in Canberra. She told the horrified audience what had happened. 'They have made our rights wrong', Mrs Jimmy told her listeners, asking 'Is there any law that can force us away from Mapoon?'
Mrs Jimmy vowed to continue the fight for Mapoon and the community's right to live there. Pauline Pickford from Victoria found it 'very sobering and deeply disturbing to hear at first hand of this terrible tragedy, from a most capable and dignified Aboriginal woman'. [1]
Footnotes
1 Pauline Pickford, Summary of the 7th Annual Conference of the Federal Council for Aboriginal Advancement, 13 April 1964, Council for Aboriginal Rights papers, MS12913/10/6.