Jump to content
Mapoon Mission and the discovery of bauxite
Mapoon Presbyterian Mission was established on western Cape York in Far North Queensland in 1891 following decades of warfare between cattlemen and explorers and the traditional owners, Tjungundji, Yupungatti and Tanikutti. Presbyterian missions at Mapoon, Weipa and Aurukun provided shelter from the bloodshed. At its most expansive, the Mapoon Mission covered 3345 square miles. People were schooled in the Christian religion and tribal ways were weakened. By the late 1950s, the mission was the only home that most residents or their parents and grandparents had known.
Following the discovery of rich bauxite deposits on Cape York Peninsula, the Commonwealth Aluminium Corporation Pty Ltd (Comalco) negotiated an 84-year lease with the Queensland government, beginning in January 1958. Comalco was granted 2270 square miles of Cape York, which included the land occupied by both Weipa and Mapoon Missions. Presbyterian missionaries planned to relocate residents, but Mapoon residents were assured that they would not be forced off the mission. Many agreed to move, but about 40 wanted to stay and be given a chance to establish local industries such as crocodile shooting.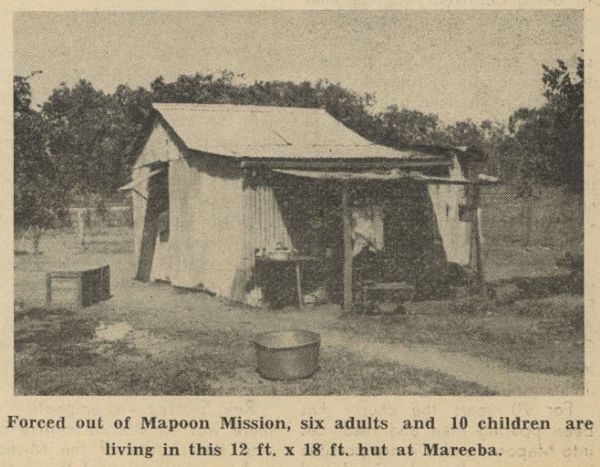 Various strategies - from coercion to force - were used to make the residents change their minds. The Queensland government stopped maintaining buildings, removed the school teacher and denied access to the flying doctor service. Remaining residents were granted exemptions from the Aboriginals Preservation and Protection Act even though they had not asked for them. By doing this, the Queensland government was able to evade its legal responsibilities for these people.
Related resources
The image above was extracted from the pamphlet Closure of Mapoon Aboriginal Mission. The pamphlet is featured on the next page of the story, The campaign for Mapoon.