Jump to content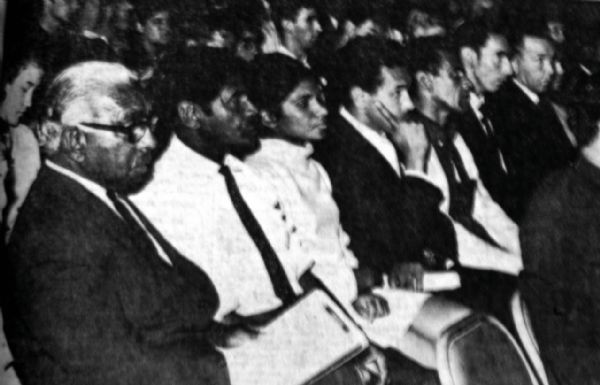 On Good Friday, before the official opening of the annual conference, the Aboriginal and Islander caucus of the Federal Council for the Advancement of Aborigines and Torres Strait Islanders (FCAATSI) discussed a resolution that the Council launch a national petition:
urging the granting of land rights and rights to compensation with respect to all existing Aboriginal Reserve land throughout Australia, and the provision of a secure compensatory right to land for all Aboriginal individuals and groups seeking to live on, use, and develop land in traditionally occupied areas. [1]
The 1968 FCAATSI conference was televised and, a week later, Channel Seven showed a documentary which recorded an emotional and outspoken debate between the Aboriginal participants. Accusations of injustice and exploitation were levelled at the Queensland government, the Victorian government, the Vestey Pastoral Company and Japanese pearling interests in the Torres Strait. [2]
President Joe McGinness told the conference 'You can't have a people without land'. [3] McGinness applauded Don Dunstan's Aboriginal Lands Trust Act 1966 (South Australia), the first such legislation in Australia. It provided for the transfer of ownership of Aboriginal reserves from the Crown to the Aboriginal people through a Trust Board comprised wholly of Aboriginal members. [4] At the same time, McGinness criticised the Northern Territory Lands Bill which allowed transfer of a lease to non-Aborigines after seven years, thereby permitting Aboriginal reserve lands to be lost forever to their traditional owners. [5]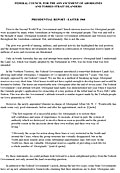 This conference was attended by William Wentworth, the minister in charge of Aboriginal affairs, and Dr HC 'Nugget' Coombs, Chairman of the Council for Aboriginal Affairs, a body which had been established by the government of Harold Holt in response to the 1967 Referendum. Coombs demonstrated a careful sympathy for the idea of an Aboriginal land title.
Related resources
People
HC Coombs
Don Dunstan
Joe McGinness
William C Wentworth
Organisations
Council for Aboriginal Affairs
Federal Council for the Advancement of Aborigines and Torres Strait Islanders
Footnotes
1 Barrie Pittock to Faith Bandler, 30 March 1968; Stan Smith to Barrie Pittock, 4 April 1968, Barrie Pittock personal papers.
2 'No Longer Silent Sufferers: Natives Speak Out', Sydney Sun, 24 April 1968.
3 J McGinness, Presidential Report, Easter 1968, FCAATSI, Council for Aboriginal Rights (Vic.) Papers, MS 12913/10/8, State Library of Victoria.
4 Aboriginal Lands Trust Act, number 87 of 1966, South Australia, 1966. See the National Archives of Australia's website, Documenting a Democracy, for the full text of this Act.
5 'Northern Territory Lands Bill' supplement to Rights and Advancement, May-June 1967.