Jump to content
The older generation of Bilsons: workers on pastoral stations
Walaru (Norman Bilson) was born into a world on the brink of chaotic change. Paddy Hannan registered his prospector's claim in 1893 on the land of the Wongi people, which would become the Eastern Goldfields. The rush for gold and the establishment of towns such as Kalgoorlie in Western Australia turned young Walaru's world upside down.
When he came to Mary Bennett for assistance in 1960 Norman Bilson was an old man, his eyesight affected by cataracts.
He had worked as a stockman since the end of the First World War. While he was unsure of his exact birth date, he dictated a letter to Mary Bennett to be sent to the District Officer for Native Welfare applying for the old age pension. The letter ended: 'I am not up to work now. My age is seventy. I believe I am seventy because I was a man when the First War started'.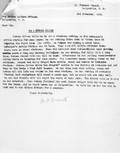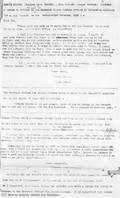 The 1959 amendments to the Social Services Act made it possible for Aboriginal Australians to apply for the old age pension, but Norman had no proof of age. He had been born into his traditional, tribal world and thus his birth was not registered in the white man's records.
In response to this application the District Officer asserted dogmatically:
Norman Bilson is not seventy years of age as stated by Mrs Bennett and is not yet old enough for the Age Pension.
Over the next year, as Norman's sight continued to deteriorate and he was unable to work, Mary Bennett and Norman Bilson gathered evidence of his eligibility for a pension. A white pastoralist supported his age claim and a medical doctor confirmed that Norman did indeed have trouble with his eyesight due to cataracts. Bennett wrote to the Native Welfare officer on his behalf. Finally, after numerous letters and the gathering of medical testimony, Norman was granted an invalid pension. This would not have been possible without the support of Mary Bennett.
Bennett used her overseas connections to publicise the situation of people such as Norman who had lost their hunting and food gathering lands and were outsiders in the settler society that had been established. In 1959 she wrote to the London-based Anti-Slavery Society:
It is dreadful to see these old people, incapacitated people, and unemployed workers, suffering hunger and refused relief, and falling ill through exposure and lack of food. Aboriginal owners share with their family, relieving many who could otherwise die uncared for, but unemployment means starvation. I have visited their camps and found they had not a scrap of food. The first obstruction that the Commonwealth brings against giving an old age pension to an Aborigine is a demand for a birth certificate, documentary evidence of age. This is penalising the victim. [1]
Bennett was well known to the Aboriginal people of the Eastern Goldfields following her work as a teacher at Mount Margaret Mission near Laverton where she had taught many of them as children. By 1960 she was herself in her late 70s, but she continued to battle against the unjust, discriminatory interpretation of the laws which prevented assistance being granted to people who were out of work, old, or just hungry.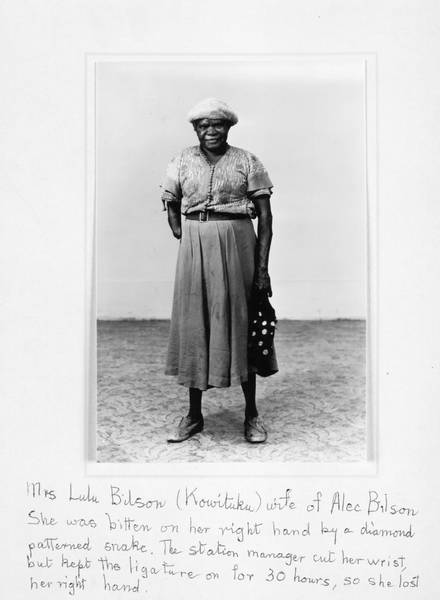 Kowituku (Mrs Lulu Bilson) was another of the many deserving people for whom Mary Bennett was trying to get relief. Lulu was the wife of Norman's older brother Kulbundja (Alec), and had earlier worked on Whitecliffs Station, north of Kalgoorlie, where she was bitten on her right hand by a diamond-patterned snake. Family oral tradition tells of her being bitten when she was putting her hand down rabbit holes. The station manager at Whitecliffs, Mr Brockman, treated the bite and tied a ligature around her arm, which he left on for 36 hours. An Aboriginal couple realised that Lulu's arm was deteriorating. They managed to borrow a car, scrounge some petrol and get her in to town but the damage was done. Lulu's arm had to be amputated to save her life. Not only was there no workers' compensation for Lulu, there wasn't even adequate medical attention.
Mary Bennett was haunted by the pain in Lulu's eyes at the loss of her arm, but Lulu was a strong woman. She was admired by the other women. 'She could carry her little girl with one arm. She can sew a dress; she can cook; she can wash; she can carry three cans of water - one in her hand, one on her arm and one on her head', Mary Bennett wrote. [2]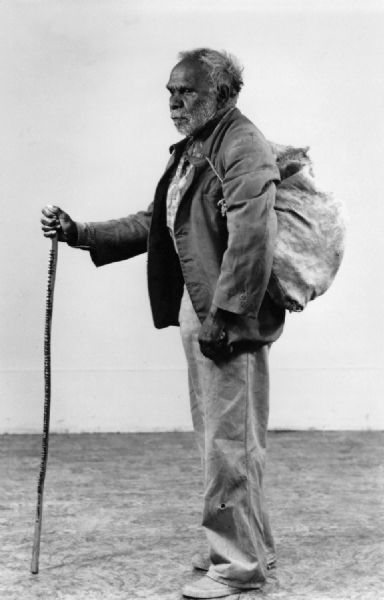 Lulu's husband, Alec, had worked as an experienced dogger and expert tracker at Mount Margaret Mission in the early 1920s. He and Lulu had worked on cattle stations until 1959 when they were told that they were too old. In 1956, 1957 and 1959 Alec, who was closer to eighty than seventy, applied for an old age pension. He finally succeeded in 1959 but while Alec had also applied for the pensioner's wife's allowance for Lulu in all these applications he had not been successful. Mary Bennett continued to help the old couple by writing to the authorities. Meanwhile, as she explained, they managed by sharing Alec's small pension. Without the advocacy of someone such as Bennett the Bilsons would have had no hope of gaining the benefits to which they were entitled.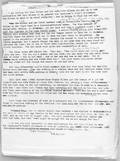 Related resources