Jump to content
Limitations to Aboriginal citizenship
In the 1950s, most legislation that targeted Indigenous Australians was firmly in state hands. The Australian Constitution stated in section 51(xxvi) that 'the Parliament shall, subject to this Constitution, have power to make laws for the people of any race, other than the aboriginal race in any State, for whom it is deemed necessary to make special laws'. All states, except Tasmania, used the power given to them by this exclusion to make laws that applied only to Aboriginal people.
Until mid-century these state so-called 'protection acts' proscribed and controlled Aboriginal people's lives. In a number of cases laws passed to protect Aboriginal people from predatory whites were applied in a controlling, inhuman way. For example, the consorting provisions of the South Australian Police Act may have been designed to protect Aboriginal women from white sexual predators, but they could also be invoked to prevent ordinary socialising, as Ephraim Tripp found out. He regularly gave a lift to work to his Aboriginal work mate until he was told by a police constable that he was breaking the law by doing so!
The right to choose a marriage partner, to be legally responsible for one's own children, to move about the state and to socialise with non-Aboriginal Australians, were just some of the rights which Aboriginal people did not have. In Queensland the protector or superintendent of a mission even had the right to open the letters of people living on reserves.
When Ted Penny, a Western Australian school teacher, travelled to Canberra to be a part of a deputation to Prime Minister Menzies in 1963, he crossed four state borders. He was subject to different laws in each state he travelled through. In some places he was Aboriginal and in other places he wasn't. Some state laws defined aboriginality in terms of how much 'Aboriginal blood' people had.
In a number of legislatures if a person was able to gain exemption from these Aboriginal Acts and have the same rights as other citizens s/he was considered, by law, to be no longer an 'Aborigine'. A change of legal status, however, did not necessarily mean social acceptance in the white community. For more information on the various laws affecting Aboriginal Australians, see State legislation (LINK) in the Resources section of this website.
Summary of different laws
In 1962 Shirley Andrews, campaign organiser for the Federal Council for Aboriginal Advancement, researched these restrictions and put them together in table form. This made accessible for the first time to interested people the enormous variations across the continent with regard to how aboriginality was defined and what people so defined were prevented from doing.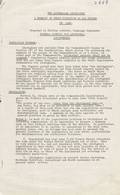 Related resources
People
Organisation