Jump to content
Australia Day under a beach umbrella
The text of Prime Minister William McMahon's speech was released on 25 January, the day before Australia Day. Aboriginal activists in Redfern, a suburb of Sydney, heard the speech on the radio. They understood that it rejected the idea of an Aboriginal title to land and decided on action.
With the support of the Communist Party of Australia, four young Aboriginal men - Billy Craigie, Tony Coorey, Michael Anderson and Bert Williams - travelled from Sydney to Canberra. By the end of Australia Day they were seated on the lawns facing Parliament House under a beach umbrella with a sign that read 'Aboriginal Embassy'. Michael Anderson told the press, 'The land was taken from us by force ... We shouldn't have to lease it ... Our spiritual beliefs are connected with the land'. [1]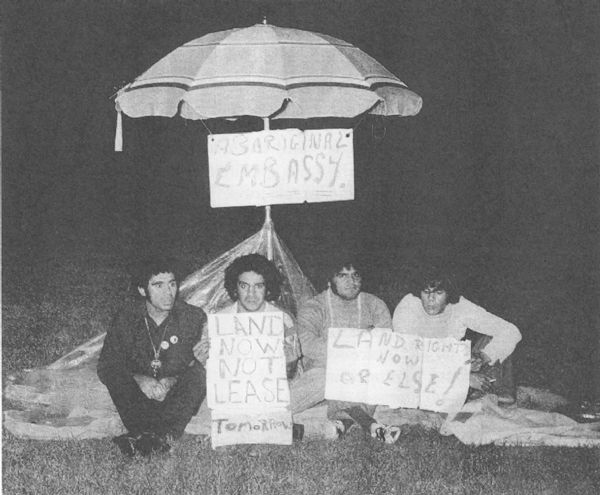 Over the following days and weeks they would be joined by other black activists: Gordon Briscoe, Paul Coe, Chicka Dixon, Gary Foley, Bruce McGuinness, John Newfong, Roberta Sykes, Denis Walker and many others from all states and territories of Australia. The press criticised McMahon's statement and gave the group a sympathetic hearing.