Jump to content
Earlier attempts to change the Constitution
Calls to amend the Australian Constitution to give the Commonwealth power in Aboriginal affairs went back to the first decade after Federation. Churchmen, anthropologists and activists such as Bessie Rischbieth of the Australian Federation of Women Voters had argued that the federal government should have responsibility for the Aboriginal population. William Cooper, a respected Aboriginal activist from Cummeragunja, New South Wales, also called for the Commonwealth to have power to legislate in Aboriginal affairs.
In 1929 Archdeacon Lefroy, representing the London-based Anti-Slavery Society, called for a referendum on the issue of Commonwealth responsibility for Aboriginal welfare. He argued to a Royal Commission on the Constitution that the Aborigines:
should be made a national responsibility because all Australia owes to them a debt of reparation. We have certainly dispossessed them of their country; no one will question that.
The President of the Victorian Women's Citizen Movement, Edith Jones, also presented evidence before this Commission, pointing out the contrast between the Commonwealth's responsibility, under a League of Nations' Mandate, for New Guinea, and its lack of responsibility for Australia's Indigenous peoples.
Some Royal Commissioners supported the calls for constitutional change to empower the federal government in Aboriginal matters but the majority rejected federal control of Aboriginal affairs.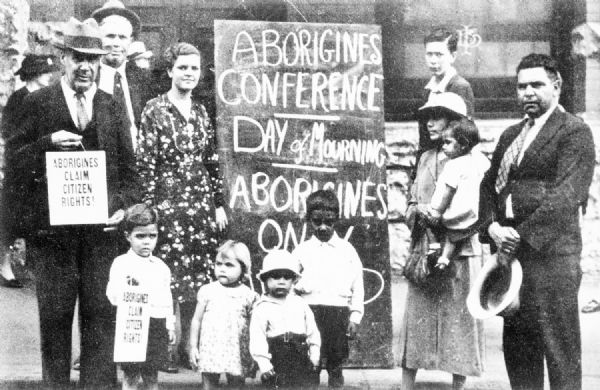 On Australia Day 1938 William Cooper (of the Australian Aborigines' League) joined forces with Jack Patten and William Ferguson (of the Aborigines Progressive Association) to hold a Day of Mourning to draw attention to the losses suffered by Aboriginal people at the hands of the whiteman. This group demanded 'a national policy for Aborigines' and 'Commonwealth government control of all Aboriginal affairs'. But with the outbreak of war the following year political activism on this matter slowed.
Greater federal power to legislate for Aboriginal Australians was one of fourteen proposals put to the voters by the government of John Curtin in a 1944 referendum, but the proposals were put as one question. As a consequence this referendum failed with less than half the electorate supporting the fourteen proposed increases in federal power. [1]
Related resources
People
William Cooper
William Ferguson
Jack Patten
Organisations
Aborigines Progressive Association
Australian Aborigines' League
Footnotes
1 See Bain Attwood and Andrew Markus, The 1967 Referendum: Race, Power and the Australian Constitution, Aboriginal Studies Press, Canberra, 2007 for a more detailed analysis of these early calls for constitutional reform.